Humidifiers For Cold Storage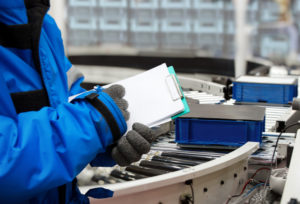 There's more that goes into a proper cold storage solution than lowering the temperature. Maintaining a consistent humidity level is critical for ensuring the right climate. However, the air in these storerooms is continually warming as it circulates, which causes produce and other food or floral goods to lose water. If left unchecked, this process can negatively affect the overall quality and shelf life of your products.
Knowing how to maintain humidity in cold storage is a high priority for many in the food and floral industries. Fortunately, GoFog offers a range of fully customizable solutions for cold room humidity control. Our unique, high-efficiency systems are the perfect choice for creating reliable humidity in cold storage without a huge hit to your utility bill.
If you're struggling with how to increase humidity in your cold room, one of our atomizing humidifier systems is the answer for you. With our equipment in place, you can rest easy knowing that your products won't be subjected to moisture loss during their time in the chiller.
The Benefits of Our Systems
Using one of our custom solutions to improve the relative humidity in your cold storage facility makes sense for a number of reasons. Our specially designed equipment:
Protects your inventory: Thanks to its ability to provide a constant level of moisture at all times, our humidifier for cold storage can create the ideal environment for food, flowers or anything else you need to keep in a temperature-controlled store.
Reduces waste: By preventing spoilage, we help keep more of your inventory in good condition and reduce excess waste due to poor conditions.
Uses less energy than traditional humidifiers: Because our units don't rely on complicated compressors or high-powered pumps, use only a fraction of the electricity demanded by other types of systems, such as electric-to-steam. That means our machines are better for the environment and your wallet.
Offers superior durability and reliability: Made from stainless steel, all of the wetting components in our units are built to last. Additionally, our equipment doesn't rely on compressed air or large-scale pumping mechanisms to deliver results. With fewer moving parts, you can count on the longest possible lifespan when you choose one of our humidifiers.
Our technology uses a high-pressure, high-efficiency pump to pressurize filtered water at 1,000 psi through our atomizing nozzles. This creates billions of tiny fog droplets no more than 20 microns in diameter.
GoFog Is the Right Choice
No one knows as much about this tech as we do. This means we have the in-house capabilities to design, fabricate and install your humidification system to fit your precise requirements. We're committed to using the latest and most advanced components and materials to ensure the best overall results for you. Rest assured, you will experience the highest levels of performance and quality from top to bottom. To learn more about what we can do for you, get in touch with us today and receive a free quote.