Evaporative Cooling Systems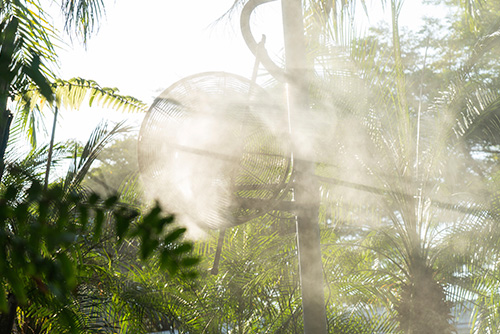 Direct and Indirect Evaporative Cooling has been utilized for centuries as an energy efficient means of reducing the ambient temperature. GoFog™ Evaporative Cooling Systems use uses the latest technology to provide an environmentally friendly system for all of your cooling needs.
Energy Efficient Data Center cooling when utilized with air side economizers.
Evaporatively precool your air cooled condensers (ACCs) to the ambient wet bulb temperature, greatly reducing the cooling load.
Using GoFog with your lab's HVAC energy recovery system will further reduce the summertime inlet temperatures with indirect evaporative cooling on the exhaust side recovery coil. This utilizes the same pump system to humidify your supply air units during the humidification season.
Spot cooling for your manufacturing facility.
Outdoor cooling for theme parks, restaurants and events.