Evaporative Cooling Systems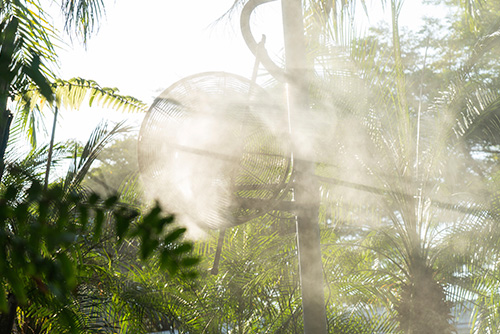 Direct and indirect evaporative cooling has been utilized for centuries as an energy-efficient means of reducing the ambient temperature. In essence, an evaporative cooling system utilizes water's ability to absorb a large amount of heat to effectively drop the temperature of the air around it.
Warm, dry air is pulled into the unit, where it passes through the fog nozzle manifolds which generates billions of tiny water droplets. As the air evaporates the moisture, it becomes cooler. A fan then recirculates the refreshed air into the room, helping to lower the temperature.
GoFog™ Evaporative Cooling Systems use the latest technology to provide an environmentally friendly system for all of your cooling needs. Our products can be found in numerous applications where large spaces need to be kept consistently comfortable and temperature-controlled. Our customer base includes art museums, data centers, offices, healthcare facilities, manufacturing plants and greenhouses.
Here are some of the many examples of how our systems can benefit you:
Energy Efficient Data Center cooling when utilized with air side economizers: Because our commercial evaporative air coolers are designed to use less power than standard HVAC equipment, they reduce the burden these facilities place on the electrical grid.
Evaporatively precool your air cooled condensers (ACCs) to the ambient wet bulb temperature, greatly reducing the cooling load: This is another way in which an industrial evaporative cooler can help lower energy usage and utility costs.
Using GoFog with your lab's HVAC energy recovery system will further reduce the summertime inlet temperatures with indirect evaporative cooling on the exhaust side recovery coil: This utilizes the same pump system to humidify your supply air units during the humidification season — providing you with versatility and flexibility.
Spot cooling for your manufacturing facility: Keep your employees comfortable and your inventory safe from excessive heat or dryness with our commercial evaporative coolers.
Outdoor cooling for theme parks, restaurants and events: An outdoor evaporative cooler from us can significantly improve the comfort of your guests and help them enjoy their stay on your property for longer — even during the hottest months.
GoFog's Innovative Solutions
As a leading provider of humidification systems utilizing advanced atomizing technology, we have extensive expertise with these types of solutions. In addition to our comprehensive knowledge about this equipment, we have the in-house capabilities necessary to design a system from scratch. Whether you need a greenhouse evaporative cooler or something designed for another kind of indoor environment, we can deliver it for you.
We take your business's unique circumstances and requirements into consideration, addressing them in every way possible. The result is something that fits your needs perfectly and performs exactly as you want.
To learn more or to request a free quote, get in touch today.