Water Treatment Systems
Before your GoFog™ Humidification System is installed, a water sample is sent to an independent lab for analysis. We provide the proper water treatment equipment for your application ranging from simple cartridge filtration to advanced Reverse Osmosis Systems. GoFog™ provides a turnkey solution that meets your specific requirements but also has the flexibility to grow with your company.
---
Download Water Treatment Systems (PDF)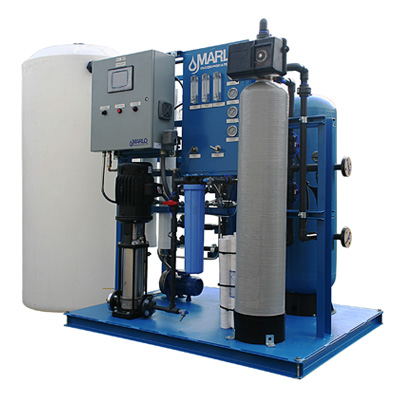 GoFog™ Reverse Osmosis System
Model
MRO-2500
MRO-5400
MRO-7200
MRO-10800
MRO-14400
MRO-22000
Maximum Output (GAL/DAY)
2,500
5,400
7,200
10,800
14,400
22,000
Maximum Output (LBS/HR)
850
1,875
2,500
3,750
5,000
7,500
Maximum Output (GPM)
1.7
3.75
5.0
7.5
10.0
15.0
Pre-treatment
5 micron pre-filter, carbon filter, water softener
Post-treatment
UV sterilization, storage tank, recirc pump, transfer pump, bladder tank
Storage Tank (GAL)
160
300
425
500
1000
1500
Bladder Tank (GAL)
40
40
40
80
80
80
Assembly Options
Skid mounted factory assembly or field assembly loose components
Product will vary based on feed water temp and quality. Output based on 77F water temp and 500 ppm TDS.
Please ask your GoFog representative for a proper selection based on your specific water quality.