Duct Mounted Humidifier Sections
Thursday, September 6th, 2018
---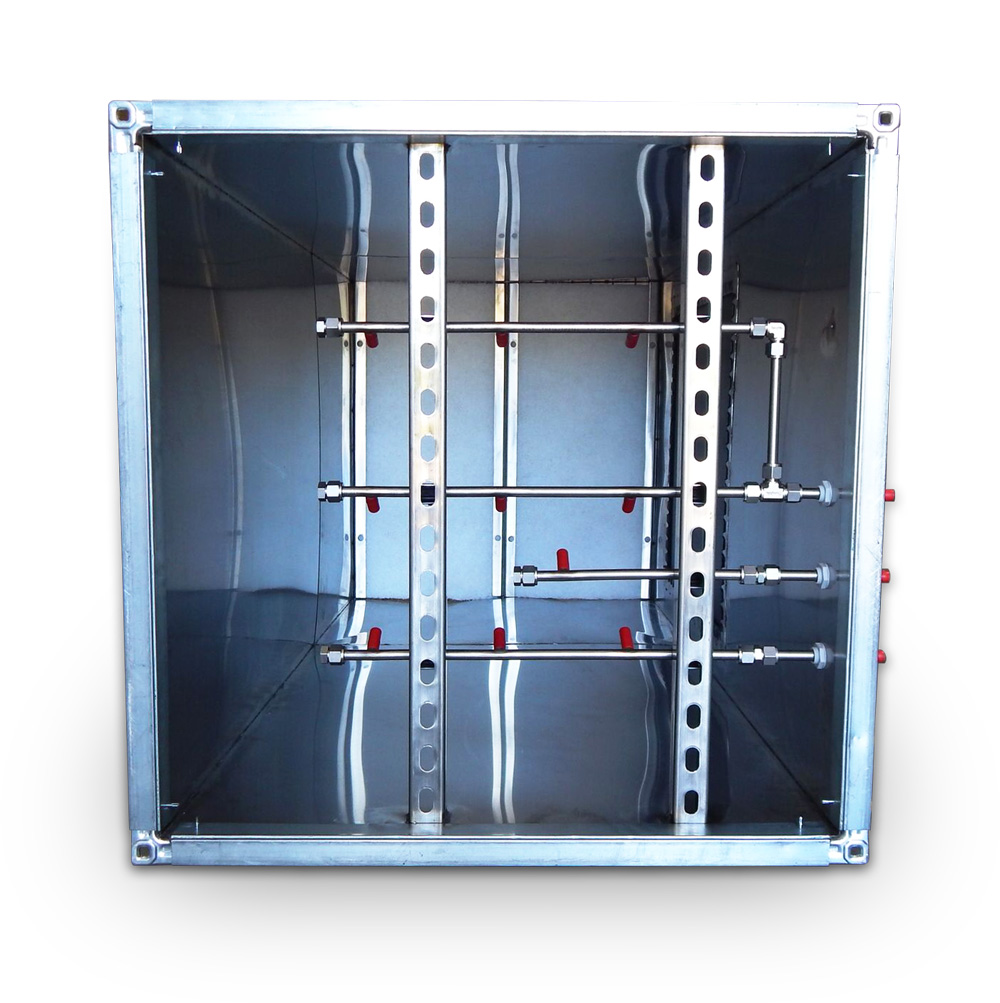 View downstream of a duct section with nozzle manifolds in the foreground and the mist eliminators in background.
Installing an atomizing humidifier inside of an air handling unit (AHU) can be difficult if there's not enough room inside the unit for optimal evaporative distance (the distance the atomized water droplets travel from the nozzles to the mist eliminators). Normally, an atomizing humidifier section would require 3-6' of evaporative distance. So, what do you do if the space just isn't available?
It's not as difficult as you might think. You just install the nozzle manifolds and mist eliminators into a modified section of ductwork instead.
These sections must be enlarged to slow the air velocity down to approximately 500 FPM, which allows enough time for most of the atomized water droplets to evaporate. Since this is considered a wet section, it must also be constructed of stainless steel and be completely water tight.
In the past, these duct sections have been built by local contractors and the nozzle manifolds and mist eliminators were installed on-site. This requires detailed drawings and good coordination to make sure everything is built and installed correctly, leaving the potential for error.
GoFog has simplified this process by manufacturing our own custom humidifier duct sections with the nozzle manifolds and mist eliminators pre-installed at our factory. These humidifier sections are made of heavy gauge stainless steel, have fully welded seams, sloped drip pan and drain, and a water tight access panel. Completed sections ship to the project site and arrive ready to install with duct flanges on each end. The contractor will add transitions to and from the existing ductwork and insulate the outside of the section. Finally, the piping connection from the humidifier pump system can be made to the nozzle manifolds which already penetrate the factory sealed duct section.
GoFog continues to develop products that make humidifying simple. See what else we've been up to or request a free design and quotation at www.gofoginc.com.
Questions? Contact Us or speak with an expert at 803.220.0101.
---