Data Center Humidification Systems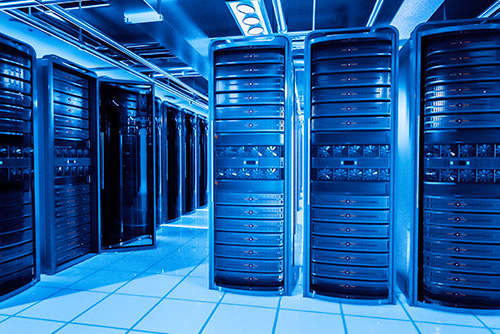 Monitoring and controlling the environmental conditions in a data center is usually synonymous with temperature. The HVAC design tends to focus mainly on how to cool the equipment while maintaining proper air quality. However, the often less-understood element of this is humidity control.
During low humidity conditions, electrostatic discharge (ESD) can cause costly damage to servers and other electronics. A properly designed atomizing data center humidifier will provide the required moisture with minimal operating costs. This is because a server room humidifier uses the excess heat from the servers to provide the energy that is required for evaporation of the fog droplets. Paired with an airside economizer, the evaporative cooling effect will assist, or fully provide, the cooling to the servers (depending on geographical location).
Because atomizing data center humidification systems use demineralized water through reverse osmosis and UV sterilization, no mineral dusting occurs, and no chemicals are added to the airstream. Any water that is not fully evaporated will be captured by the mist eliminators and taken to the drain, leaving only cool, humidified air at the discharge of the humidifier section.
The many benefits of GoFog™ data center humidifier systems include:
Provides evaporative cooling and humidification with minimal energy usage: Our server room humidifier solutions are extremely efficient, contributing less to your utility expenses than other options.
Redundant Pump System provides necessary backup: There's no need to worry about downtime with our components. Even if you experience an outage, the backup will kick in and maintain consistent performance while repairs are made.
Uses demineralized water that does not add dust to the airstream: Minerals found in untreated water can remain after evaporation, potentially damaging sensitive electronics. Our systems remove these minerals before the moisture is added to the air, preventing this from becoming an issue.
Requires minimal maintenance and provides quiet operation: Designed without need for large-scale pumps or compressed air, our equipment is extremely reliable. The only aspect you'll notice about its operation is how much it saves you.
Go With GoFog
The difference between our data center humidification systems and others lies in our technology. Thanks to our extensive in-house expertise, we have the capability to design and engineer a fully customized solution for whatever type of facility you have. The energy-efficient nature of what we build helps lower your property's consumption while also protecting and preserving your critical assets.
Our reverse-osmosis filtration guards against harmful chemicals or minerals being introduced into the air. Further, our stainless steel nozzles create consistent fog droplets less than 20 microns, with uniform distribution. Designed for maximum performance and minimal maintenance, we offer the ideal choice for data center humidification.
To begin creating your custom server room humidifier or to learn more about what we can do for you, get in touch by filling out the contact form or give us a call.