Printing Humidification Systems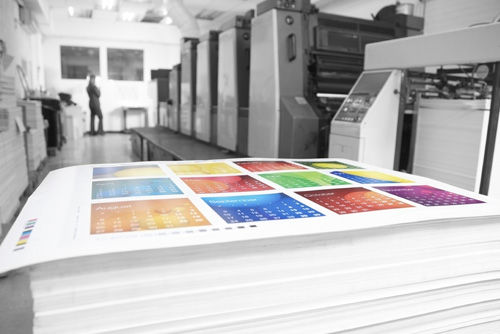 The benefits of proper humidity control for any printing operation are well known to those in the industry. Paper being hygroscopic, it will easily absorb and release moisture in a changing environment. Low humidity levels will make the pages hard to separate due to the static build-up and issues related to paper curling become more prevalent. Causing creasing and mis-feeds that lead to costly downtime.
Most ink related issues such as clogged heads, nozzle dropout, and poor ink transfer will notably increase during the winter months when the relative humidity in the building drops below recommended levels.
How Our Systems Benefit Your Operation
Properly designed printing humidification systems will allow the machine to work at higher speeds with less reject as paper curl is avoided, optimum ink transfer is provided, and sheet separation is improved. Using less than 1% of the energy of a typical steam system, the GoFog™ System is custom designed for your building and is easy to maintain.
The many benefits of the GoFog™ printing humidification systems include:
Eliminate issues with static electricity that cause costly downtime and product losses.
Provides paper stability and flexibility by maintaining proper moisture content.
Increased productivity at high speeds while decreasing rejects.
Paper warping and curling issues are eliminated.
Improved ink transfer and sheet separation.
Evaporative cooling effect reduces the cooling load and improves employee comfort.
Unique, Efficient Technology
At the core of our print humidifier solutions is our advanced atomizing technology. This unique machinery operates more economically and effectively than other systems in the market. Water filtered through reverse osmosis is pressurized through our specially designed fog nozzles. This creates billions of tiny droplets no more than 20 microns in diameter, allowing ideal evaporation and even distribution. These can be integrated into your existing HVAC system or humidify your space directly.
Because these systems don't rely on overpowered pumps or compressed air, they are exceptionally efficient. For example, one of our products uses only 1% of the energy of an electric-to-steam unit. This means our equipment has the potential to save your company thousands of dollars each year, even compared to other units that are built with efficiency in mind.
Plus, our filtration components use no harsh chemicals, which means you won't suffer a buildup of residual particulates once the water evaporates. The simplicity of our system makes them more reliable, with dependable, long-term operation.
Choose GoFog
At GoFog, we have the experience necessary to create a fully customized solution for your facility. Our in-house experts can design, engineer and install one of our humidification systems, so you always receive the highest levels of performance. No matter what your building's requirements, we have the perfect arrangement of equipment to keep it humidified at an appropriate level.
If you want to learn more about what we can do for you, get in touch with us to receive a free quote. Our experienced and knowledgeable representatives are ready to answer any questions.

Recommended Humidity Levels for Ideal Moisture Content
Paper Materials
Humidity
Wood Pulp (24% ash)
45-65%RH
Wood Pulp (3% ash)
30-50%RH
Rag (1% ash)
35-55%RH
75% rag (1% ash)
30-60%RH
Coniferous
25-45%RH