Textiles Humidification Systems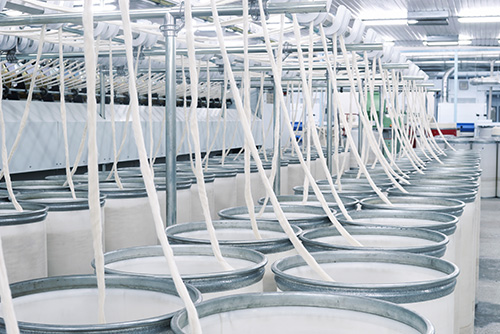 Being hygroscopic (releases and absorbs moisture from the surrounding air), textiles are inherently sensitive to changes in relative humidity. During low humidity conditions, the textile will release moisture which causes it to become weaker affecting elasticity and tensile strength.
Equally troublesome for textile processing is static. The lack of moisture content in the air and in the material itself will increase electrical resistance allowing static electricity to build which can discharge to machinery and even people. This also leads to the product sticking together which affects production time and quality.
Using textiles humidification systems by GoFog™ not only controls the desired relative humidity but also provides the secondary benefit of suppressing airborne dust and lint from the manufacturing process. The combination of the higher humidity adding weight to the particles and the evaporative cooling effect which creates a downward flow of the air, allows for a cleaner and healthier working environment for employees.
The many benefits of the GoFog™ textiles humidification systems include:
Maintains proper moisture content, increasing tensile strength and reducing waste.
Eliminate static electricity.
Provides dust suppression making a cleaner and healthier working environment.
Improves product quality and production speed.

Recommended Humidity for Textile Operations
Process
Cotton (%RH)
Man-made Fibers (%RH)
Process
Wool (%RH)
Twisting
60-65
50-65
Carding – Worsted
60-70
Knitting
60-65
50-60
Carding – Woolen
60-75
Weaving
70-85
60-70
Drawing – Worsted
65-75
Warping
55-70
50-65
Combing – Worsted
65-75
Opening and Picking
55-70
50-55
French System
65-70
Spinning
35-60
50-65
Bradford System
50-60
Winding and Spooling
55-65
60-65
French Mule
75-85
Carding
50-55
50-60
Woolen Mule
65-75
Ribbon Lapping
55-60
55-65
Raw Wool Storage
50-55
Silver Lapping
55-60
55-65
Mising and Blending
65-70
Combing
55-65
55-65
Warping – Worsted
50-55
Drawing
50-60
50-60
Winding and Spooling
55-60
Roving
50-60
50-60
Spinning Bradford Worsted
50-55