Laboratory and Healthcare Humidification Systems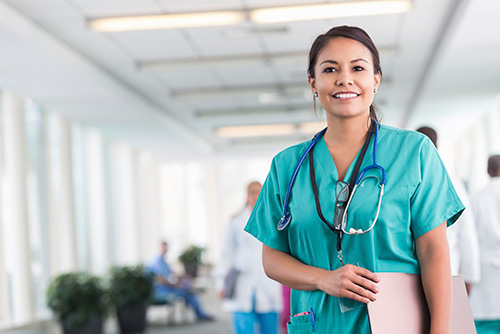 All laboratory and healthcare facilities are equipped with advanced climate and ventilation control. The proper temperature and humidity must be maintained within prescribed limits to ensure the performance of each test or procedure being performed. A comfortable working environment is also to be considered with most conditions ranging from 68-72 degrees Fahrenheit with a relative humidity of 35%-60%.
Many of these rooms operate under negative pressure to adjoining areas and do not return any air into the building. This makes the HVAC system more sensitive to the outside conditions. Therefore, the temperature and humidity control must be able to adjust quickly for these changing conditions.
Maintaining proper moisture content in the air is especially important as low humidity creates the perfect environment for viruses and bacteria to flourish, and high humidity increases the risk of mold. GoFog™ laboratory and healthcare humidification systems deliver precision control for a safe and stable environment.
The many benefits of the GoFog™ laboratory and healthcare humidification systems include:
Improved IAQ (Indoor Air Quality): By maintaining a consistent level of moisture, facilities can have more power over airborne pollutants and unwanted particulates. This keeps the atmosphere inside cleaner and lowers the risk of contamination.
Reduced respiratory infections: Hospital humidifiers prevent dryness that can make certain people more vulnerable to viruses. They also balance the amount of moisture in these buildings, which prevents the growth of harmful spores.
Uses pure demineralized water with no chemical additives: Administrators can count on our solutions not to introduce potentially hazardous substances that could harm patients.
Reduce or eliminate issues related to static electricity: The use of a hospital-grade humidifier prevents the buildup of these charges, which can disrupt or damage sensitive electronic equipment.
ASHRAE Approves the Use of Atomizing Humidifiers in Healthcare Facilities
Why Choose GoFog?
As a recognized leader in the creation of atomizing humidification systems, we know more about this technology than practically anyone. Our equipment uses less energy than traditional options because it doesn't require large-scale pumps or compressed air. The reverse-osmosis filtration we utilize also means that pollutants, chemicals and minerals will not be introduced into the air. When working with us, you can be certain that what we provide will give you maximum performance with minimal attention.
We have the expertise to design a custom-made solution to fit your facility's precise requirements. Our in-house capabilities enable us to engineer a fully customized system that addresses every possible aspect of your building and operations.
If you're ready to take full advantage of our innovation, contact us today. Our knowledgeable representatives will be happy to help you learn more or provide a free quote for your properties.