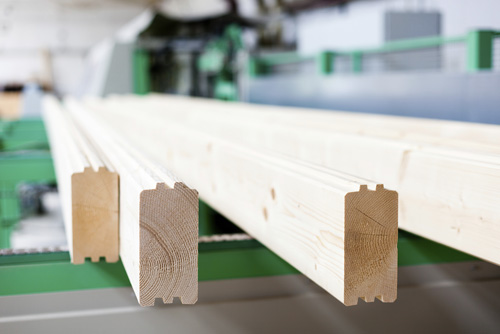 As a wood product manufacturer, keeping proper EMC (Equilibrium Moisture Content) is essential. EMC is the point at which wood is neither gaining nor losing moisture. As the moisture content in wood changes it may result in cracking, warping, splitting and shrinking.
In a majority of the US, the outdoor conditions in the summer months will have sufficient moisture in the air to allow for an acceptable EMC with adequate ventilation. However, when cooler weather arrives and the manufacturing space is heated, the relative humidity drops to unacceptable levels.
As the outside becomes cooler, the air reduces its capacity to store water which means the amount of water per cubic foot of air is much less than it would be during the summer months. When heated to a normal building temperature, the air increases its ability to store water again but the amount of water in the air hasn't changed. Thus creating the low relative humidity in the space. This is when a properly designed woodworking humidification systems is required to bring the relative humidity back up to acceptable levels to maintain proper EMC.
The many benefits of the GoFog woodworking humidification systems include:
A significant decrease in airborne dust: When woodshop humidity increases, the number of particles floating in the air can be reduced to a great degree. This results in cleaner, healthier workspaces.
Issues from static and dust fires are greatly reduced: Keeping the air inside your facility at a higher humidity level lowers the risk of materials catching fire.
Tool life and machine quality are improved by reducing blow-out and maintaining machining tolerances: GoFog systems provide ideal conditions for equipment operation, ensuring that machines don't need to work too hard.
Prevents damage such as cracking and warping from improper EMC: Our equipment maintains the proper environment for wood so it remains in good condition throughout your processes.
Evaporative cooling effect reduces the plant cooling load and improves employee comfort: You will be able to keep the temperature comfortable without overworking the HVAC system and wasting energy.
Why Choose GoFog?
The key difference in GoFog's offerings is the technology, especially our high-efficiency pump and unique atomizing nozzles. These components enable our systems to produce an ultra-fine fog of droplets no more than 20 microns in diameter. Because our units don't use compressed air or complicated pumping components, they are much more energy-efficient and offer greater dependability than other solutions.
We have extensive in-house capabilities to design and create the ideal customized system for your facility. Our experts will work with you every step of the way to assess your needs and develop the equipment to meet them. Expect to receive the highest levels of quality and reliability from GoFog. We know more about this technology than anyone else in the industry, and we're excited to show you what we can do. Get in touch today to receive a free quote.

Recommended Humidity Levels for Ideal EMC
Location
Average EMC
Desired Humidity
Majority of US
6.5-7%
35-40%RH
Southwest
6%
25-30%RH
Tropical/Coastal
11%
45-55%RH