Woodworking Humidification Systems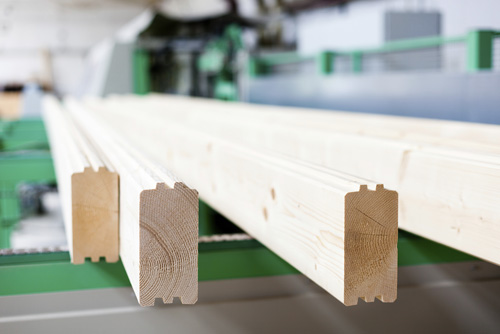 As a wood product manufacturer, keeping proper EMC (Equilibrium Moisture Content) is essential. EMC is the point at which wood is neither gaining nor losing moisture. As the moisture content in wood changes it may result in cracking, warping, splitting and shrinking.
In a majority of the US, the outdoor conditions in the summer months will have sufficient moisture in the air to allow for an acceptable EMC with adequate ventilation. However, when cooler weather arrives and the manufacturing space is heated, the relative humidity drops to unacceptable levels.
As the outside becomes cooler, the air reduces its capacity to store water which means the amount of water per cubic foot of air is much less than it would be during the summer months. When heated to a normal building temperature, the air increases its ability to store water again but the amount of water in the air hasn't changed. Thus creating the low relative humidity in the space. This is when a properly designed woodworking humidification systems is required to bring the relative humidity back up to acceptable levels to maintain proper EMC.
The many benefits of the GoFog™ woodworking humidification systems include:
A significant decrease in airborne dust.
Issues from static and dust fires are greatly reduced.
Tool life and machine quality are improved by reducing blow-out and maintaining machining tolerances.
Prevents damage such as cracking and warping from improper EMC.
Evaporative cooling effect reduces the plant cooling load and improves employee comfort.

Recommended Humidity Levels for Ideal EMC
Location
Average EMC
Desired Humidity
Majority of US
6.5-7%
35-40%RH
Southwest
6%
25-30%RH
Tropical/Coastal
11%
45-55%RH