Museum and Art Gallery Humidification Systems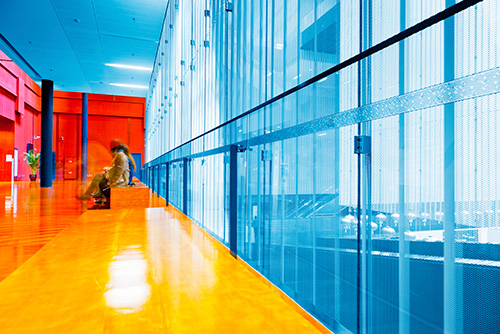 Museums and art galleries are tasked with protecting and preserving rare antiquities and masterpieces that represent some of mankind's most exceptional achievements. A critical element of their preservation efforts is creating the optimal environment for these delicate pieces, including controlling humidity. This is why GoFog creates and installs customized museum humidifier systems designed to provide the highest levels of performance and protection.
Artwork, rare documents and other precious artifacts will absorb and release moisture from the surrounding air. In low-humidity conditions, cracking and chipping can occur while high levels of moisture encourage mold growth and biological threats. Inconsistent humidity promotes surface damage and the loosening of joints, as different materials contract and expand at different rates.
Why Our Systems Succeed
When designing environmental control equipment, a one-size-fits-all approach was common in the past. More recently, however, museum personnel have been encouraged to work closely with the mechanical design team. This collaborative review ensures that proper conditions are provided for each space, and that this is accomplished with a close eye on energy conservation. The type of humidifier and the way it is controlled will have a substantial effect on energy consumption. This could hinder facilities that are already on a tight operational budget.
GoFog™ museum and art gallery humidification systems provide significant benefits by:
Eliminating warping, shrinkage, and cracking caused from inconsistent humidity levels. Our technology introduces a consistent amount of fog droplets into the air, ensuring that moisture levels never become too low or too high.
Maintaining the proper moisture level, improving strength and stability. Our art humidifier systems help prevent fragile artwork from becoming damaged by dry air or mold growth.
Reacting quickly to stabilize humidity fluctuations resulting from environmental changes. With our equipment in place, you won't have to worry about the weather outside influencing the air quality inside your building.
Including redundant pump systems that provide uninterrupted service during maintenance. Our designs deliver continuous performance so there's no chance your collection will be exposed to potentially harmful conditions.
Choose GoFog to Protect Your Collections
Our expertise in designing and building atomizing humidifiers for use in galleries and museums means we can create a solution that fits your institution's precise requirements. We provide customized equipment that lowers energy consumption while preserving your most precious assets. Our reverse-osmosis technology ensures that no harmful chemicals will be introduced into your HVAC systems. Additionally, the lack of compressed air or large-scale pumps means reliable, efficient performance throughout the day.
To learn more about what GoFog™ can do for you or to get started with a free quote, fill out the contact form to the right. Our representatives will be in touch shortly to answer any questions you may have.